Fat Re-injection Cannula
A wide range of cannula for Fat injection is available with a variety of tip styles, cannula length and width.  All feature a blunt tip to reduce trauma to the recipient site and allow for accurate placement of the grafted fat.  All cannula are made from polished steel to reduce the blocking and clogging of cannula and fitted with a luer lock hub.  Fat injection cannula range from 0.90mm ∅ wide / 20 G to 4.00mm ∅ and 190mm length.
Flexible Micro-Cannula for fillers and fat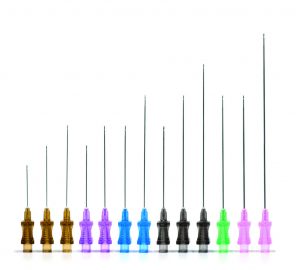 Micro-cannula for injection of dermal fillers and fat from 30 G (0.31mm ∅) to 18 G (1,24mm ∅) are available in a variety of lengths.   Package sterile and single-use in individual double-wrapped packaging, in a box of 20 per size, with colour co-ordinated luer lock hubs to connect to all syringes with luer lock.
Lipo-Modelling Accessories
Syringe Holding Racks
Sterile, single-use syringe rack for 6 syringes size 1ml – 10ml. Code LX54300 Box of 10
Re-useable stainless steel syringe racks are available;
4 x 6 Syringe Rack  holds 1ml -10ml syringes
4 x 12 Syringe Rack holds 1ml – 10ml syringes
3 x 4 Syringe Rack holds 50ml syringes
Syringe Locks
Syringe Stop Lock for 60ml and 10ml syringes (re-useable)
or sterile, single-use Syringe stop that sits internally into the syringe piston available in
ST10 for 10cc syringes
ST50 for 50/60cc syringe
Centrifuge for Fat Grafting and PRP kits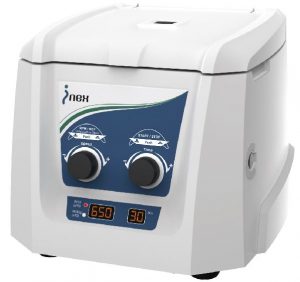 CSE10 variable speed, time adjustable medical centrifuge for use with fat harvesting preparation and Platelet Rich Plasma.  Can you used in the doctors office or in the operating theatre.  The new CSE10 comes with a locking lid and 6 syringe holders / tubes – that are designed to hold syringes from 15ml to 1ml with reducers.  The syringe tubes and rotorary holder are autoclavable.  Mains powered and fitted with noise and vibration reducing pads.
Download PDF:
Aesthetic /INEX catalogue 2013