Biopsy needles with Trocar for Amniocentesis and other soft tissue.
Are a world-renown leading company for products designed for Obstetrics and Assisted Reproduction treatments.  Eurosurgical are their UK exclusive distributors for CCD Lab (France), Theibaud (France) and Medgyn (USA).  Products for soft tissue biopsy include;
Chorionic villus sampling (CVS sets) needles and guides.   Two echogenic coaxial needles.  Guide needle is equipped with removable stylet.  Ref 1141201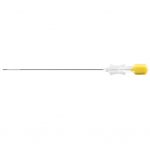 Blache needle with trocar.  Ref 1110800
Amniocentesis Biopsy Needles and Trocar – Needles with sandblasted tips for enhanced echogenicity.  Triple bevel tip (60°) to aid insertion through tissue.  Available in a variety of lengths.
For more information visit https://strimhealthcare.com/products/organs-mucous/orgapix/
Download Brochure here;  Thiebaud ORGApix cannula and needles