Endometrial smear brushes and Cervical smear brush
Available through NHS Supply Chain Framework
Endobrush® is a diamond shaped brush for sampling of endometrial surface cells.  The brush retracts fully in the sheath and is fully covered by a rounded end cap.  Designed for cytology and endometrial sampling.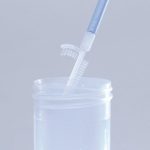 Atraumatic during passage into the cervix
Protection to the brush and sample to avoid contamination of sample in transport.
Order Ref; 1113000  NPC code FRG971  Diamond shaped brush 20mm   Box / 25
Scrinet® cervical smear brush for cytology of the endocervix or bacteriological sampling.  A cylindrical polyamide swab brush, mounted on a polypropylene handle.  Swabbing of the endocervix to sample cells for smear for cervical cancer screening or testing for bacterial infection.
Order Ref; 1107030  NPC code FRG961  Scrinet 3mm  Box / 50
Download CCD Gynaecology Sampling Products Gynaecology leaflet Eurosurgical