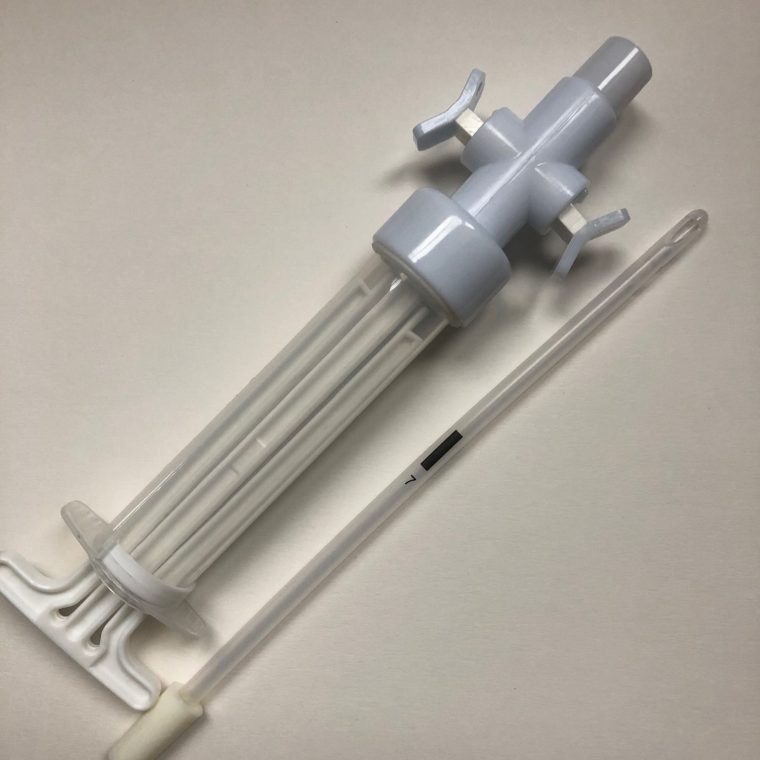 Manual Vacuum Aspiration (MVA) Kits
MVA - Manual Vacuum Aspiration for the management of Retained Products of Conception
Manual vacuum single or double Aspiration kits are an effective technique in the management of evacuation of retained products of conception from the uterine cavity from 5-12 weeks gestation or for simultaneous endometrial curettage.  MVA/DVA can be carried out under general or local anaesthetic and  maybe carried out in Day Surgery or Gynaecology Out-patient department (OPD) setting. Kits provided sterile and single-use.  CE marked and FDA Approved.
Sterile Double Valve Aspiration Kit
The sterile Double aspiration valve device (pictured in main image) is specifically used for rapid uterine aspiration / uterine evacuation in Gynaecology procedures.  The sterile single-use device with unique locking double valve system allows creation of vacuum of up to 610-660mm Hg pressure prior to the start of the procedure.  The double valve finger-tip control release the vacuum created with precision and immediately upon depression.  This reduces the incidence of "slow" gradual suction pressure, which can be a major source of uterine bleeding with inadequate vacuum. Kits with Flexible Karmen Curettes and a wide range of rigid and straight cannula-curettes.  The white connection is coated with a fine layer of silicone spray with enables easy connection of curettes and assists with the initial creation of pressure inside the syringe. Order Code; 022526  Double valve aspiration with 60ml syringe. 
NPC code FGR279
  Supplied Each (1) Download for more information;
MedGyn Aspiration Kit Double Valve - NEW