Male Continence Clamp Device
Designed to provide comfortable solutions to male dribble incontinence problems.
Male incontinence is related to the ageing process.  Causes, such as diabetes, prostate surgery, infection, kidney disease, depression, drug side-effects, or too much alcohol and caffine consumption.  The degree of your bladder control problem will affect how the CirClamp will work for you.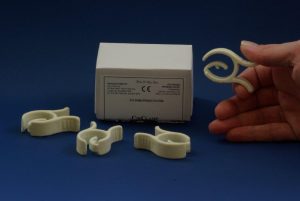 CirClamp is designed to help men manage their incontinence.  It is simple, fast and effective clamp, made from plastic with a comfortable covering that comes in contact with the penis.  CirClamp can easily be applied and fits over the penis and held in place by the memory of the clamp itself.
CirClamp works by blocking (occluding) the urethra by gentle external pressure and thereby stops the dribble flow of urine from the bladder until removed.
Available to buy from our discret Internet Shop, which you can click to here esshop