Silderm™
Silderm™ Scar Gel Range
Available from our online shop esshop in 6g and 15g Silderm™ Scar Gel
Silderm™ Scar Gel is 100% medical grade silicone gel, which has specifically formulated as a lightweight, quick drying, silicone gel for the treatment of scars.  Silderm™ has been clinically shown to flatten, soften and smooth scars, relieving the itching and discomfort, as well as the reducing the redness associated with scars. Silderm™ Scar Gel dries rapidly to form a custom-fitted silicone sheet, this silicone layer is gas permeable, flexible and waterproof.  Silderm™ is intented for all scars and can be used to manage old and new hypertrophic and keloid scars and scars resulting from surgical procedures, trauma, wounds and burns.
Silderm™ Dual Action Scar Gel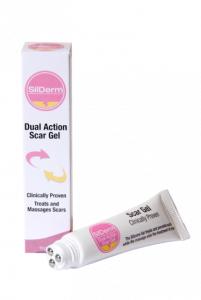 NEW  Silderm™ Dual Action Scar Gel contains the same  100% medical grade approved silicone ingredients as Silderm™ Scar Gel and Scar Spray, but has the added benefit of a roller to apply the treatment.  The massage action of the Triple headed roller ball during the application enhances the action of the silicone ingredients and delivers a massage effect and a layer of silicone gel to the effected area.
 Silderm™ Scar Spray
Available in 30ml and 60ml pump action dispensers, from esshop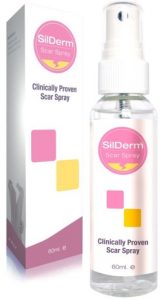 Silderm™ Scar Spray contains 100% medical grade silicone approved ingredient, which is recommended by medical professionals, such as Dermatologists and Plastic and Cosmetic surgeons to support the management of scars.  Silderm™ Scar Spray is an easy to apply product specifically formulated to dry quickly and to form a barrier that helps heal the scar.  Silderm™ Scar Spray is ideal to cover large areas or on painful or sensitive scars.