Single-use Cervical Biopsy Forceps
Medgyn Sterile, single-use cervical biopsy forceps.
A range of sterile, single-use cervical biopsy forceps are now available.  These highly polished stainless steel forceps are made with precision to take accurate punch biopsies every time and eliminate blunt or damaged shafts and grasping teeth.  No requirement for cleaning or sterilization, cost effective and new each time.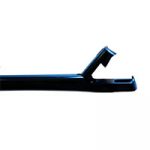 Eppendorfer single use metal forceps.
One of the original punch designs.
Popular for a sharp bite and good tissue sample.
029701-D   Tischler Biopsy forceps single-use Pack of 10 029702-D  Baby Tischler biopsy forceps single-use Pack of 10 029703-D  Kevorkian-Younge biopsy forceps single-use Pack of 10