Cervical Biopsy Forceps – Reusable
Titanium and Stainless Steel Cervical Biopsy forceps.
A full range of Cervical Biopsy forceps are available in both highly polished blue Titanium or Stainless Steel finish.  For accurate, sharp and true biopsy punches, without tearing or pulling at tissues, to create accurate and clear biopsies each time and prevent any lasting damage or hematoma. The handles can be detached from the shaft and the internal rod, which allows for accurate cleaning and lubrication of the biopsy forceps between cases and whilst being decontaminated and re-sterilized.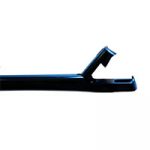 Tischler Biopsy forceps 10" and 8" (254mm and 216mm) Baby Tischler forceps 10" (254mm) Kevorkian biopsy punch forceps 10" (254mm) Angled up or down or rotating forceps available.  For full listing please contact Eurosurgical 
https://www.eurosurgical.co.uk/contact/