Humeca Mesher and Dermacarriers
In addition to the V-carriers, Humeca developed a mesher to complete the product line for meshgrafting.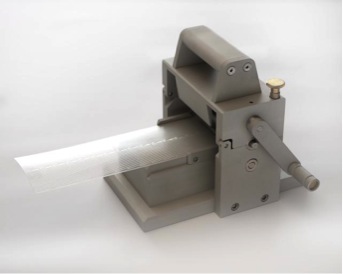 The Humeca® mesher is provided with a unique spring mechanism that prevents the blades from excessive pressure on the carrier during cutting. Due to their production process (injection molding) all meshgraft carriers have inevitable variations in thickness. When the thickness of a certain section of the carrier exceeds the maximum distance between the blades and the lower roller, the pressure exercised by the blades on the carrier surface will increase exponentially. Such high pressure manifests in increased friction and in the end it will damage the blades. On the other hand the mesher might not cut the graft completely at a thinner section of the carrier. To avoid such undesired phenomena, Humeca provided the mesher with springs that can meet with thickness variations in carriers. The mesher can be adjusted in two positions for the V10 or the V15- types of V-carriers.
Mesher features
Robust and durable construction
Compatible with Humeca® V-carriers of all types (V10 and V15)
Compatible with Zimmer® and Aesculap® / B.Braun® carriers
Spring mechanism prevents blades damage
Continuous rotational drive; no intermittent pulling of a ratchet
Measures: Dimentions, 220x212x183 mm (8.7×8.3×7.2″). Weight: 4.4 kg (9.7 lb)
Cutting axis can easily be replaced
Individual blades can be replaced
Compact stainless steel sterilization case available, dimentions: 277x232x197 mm (10.9×9.1×7.8″)
V-carriers / Dermacarriers
V-carriers features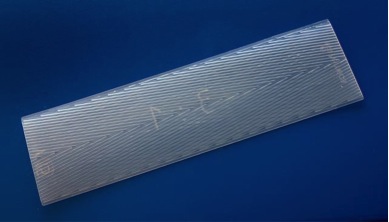 Compatible with existing Zimmer® and Aesculap® / B.Braun® meshers
Symmetric V-pattern of grooves prevents sideward movement
Standard length 280 mm (11.0″), width 78.8 mm (3.1″)
Expansion ratio 1:1.5, 1:2 (type V10 only) and 1:3
Special carrier for 1:1 perforation (drainage) of sheet grafts
Groove patterns of carriers connect to each other
Highly flexible medical grade polypropylene material
Individually sterile packed in peel pouch; standard boxes 10 pcs.
Attractively priced