Humeca Skin Graft Mesher
Humeca Skin Graft mesher and product line for split-thickness mesh-grafting.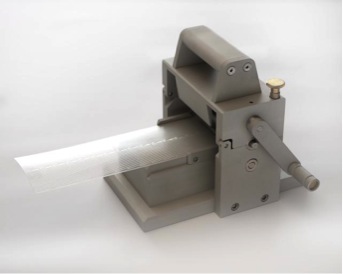 The Humeca® mesher is provided with a unique spring mechanism that prevents the blades creating excessive pressure on the dermacarrier during the mesh process.   Powered and hand held Dermatomes are used to harvest skin-graft with a variety of skin thicknesses.  The thickness of a graft can vary across the lenght of the graft which can effect the ability of some Skin Graft Meshers to cut a uniformed Mesh pattern across the entire skin graft – NOT with the Humeca Skin Graft Mesher.   The pressure exercised by the blades on the carrier surface will increase/decrease according to the thickness of the graft.  High pressure manifests in increased friction and with inferior skin graft meshers, will damage the cutting blades leading to poor performance and costly repairs.  To avoid such undesired phenomena,  the Humeca Skin Graft Mesher is created with springs that accomidates the variety of graft thickness and a wide range of Dermal Meshgraft carriers.
Humeca Skin Graft Mesher features
Individual blades

c

an be replaced

Compact stainless steel sterilization case available, dimentions: 277x232x197 mm (10.9×9.1×7.8″)
V-carriers / Dermacarriers
V-carriers features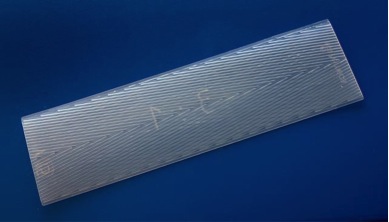 Compatible with existing Zimmer® and Aesculap® / B.Braun® meshers
Symmetric V-pattern of grooves prevents sideward movement
Standard length 280 mm (11.0″), width 78.8 mm (3.1″)
Unique Expansion ratios
1:1, 1:1,5, 1:2,1:3 and 1:6
Special carrier for 1:1 perforation (drainage) of sheet grafts
Groove patterns of carriers connect to each other
Highly flexible medical grade polypropylene material
Individually sterile packed in peel pouch; standard boxes 10 pcs.
Cost effective pricing
For more information about the Humeca range of products visit Humeca.com