New nano-cellulose water dressing for mid-deep partial thickness burns, donor sites and wound care.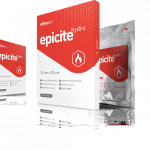 Epicite Hydro is an exciting new dressing designed for Burns and wound care. Using proprietary technology, the dressing is made from an organic cellulose structure that is designed to be the same size as water molecules.  Epicite is made up of 99% sterile water at ph7 that slowly hydrates the burns wound over a long period.  Applied Epicite Hydro dressing  gives rapid and immediate pain relief from burns, particularly significant for scoulds and mid-deep partial thickness burns and donor sites in adults and children.   Epicite Hydro unique structure also deeply hydrates the burn wound area, controlling the zone of stasis and repairing tissue damage to the cells, starting the wound healing process without damaging the existing cells or new cells
Epicite Hydro Application
The unique bacterial nano-structure cellulose matrix enables the water to be held in Epicite Hydro, which stores up to 99% sterile water and releases a deep penetrating hydration to the damaged cells.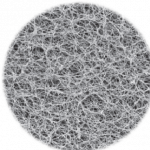 Epicite Hydro can be apllied either side down to the wound.  Cover and overlap the wound edges with Epicite, then cover with a single-layer of fatty gauze dressing (such as Jelonet®) and cover with an absorbent gauze dressing.  Epicite Hydro can be left on the wound for 5-20 days and can be removed either by peeling off the healed wound, or by re-soaking with sterile water, removal will be very easy and not stick to the wound bed.
Epicite Hydro is available in a range of sizes and styles
REF 800003-M02B 10 x 10cm sheets (10 per box)
REF 800003-M06B  15 x 20cm sheets (10 per box)
REF 800003-M09A  20 x 20cm sheets (10 per box)
REF 800003-M010A  Face Masks Adult 20 x 30 (5 per box)
Coming soon EPICITE Hydro Gloves and Face Mask
For more information visit qrskin.com