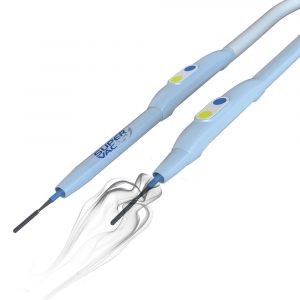 SuperVac Diathemy pencil with moving finger-switch
The monopolar diathermy pencil that surgeons and theatre staff have been waiting for is finally here. SuperVac is ergonomically designed, so that it is comfortable to hold, not bulky like many of the other smoke evacuation pencils.  No loss of vision caused by shrouded tip covers and the smoke evacuation remains at the tip of the pencil, throughout the procedure, even when using the fully extended lenght.   
SuperVac is fitted with a non-stick coated blade OR a Cotswold guarded needle-point – that is clear and easy to see whilst operating which prevents accidental tissue damage.  SuperVac has a unique and patented design, that allows the surgeon to move the finger-switch control on the pencil. This allows for easy extension of the diathermy tip, without any loss of smoke evacuation suction (as the same tip is kept on for the entire surgery) OR loss of time, whilst changing over to an extension tip.
SuperVac is fitted with a standard 22mm smoke evacuation connector and suction tubing that will fit ALL standard Smoke Evacuation systems including Bovie, LED, and many others.  If you are also looking for a Smoke Evacuation device to use with SuperVac please contact our office for more details of what we can offer.
Available now in these configurations;
PMS6300           SuperVac with non-stick Blade          Box of 20
PMS6301            SuperVac with Cotswold Needle   Box of 20
PMS6302            SuperVac Blank                             Box of 20
PMS6305            SuperVac guarded blade              Box of 20