Sterile, single-use Tebbett's LED lighted breast retractor
RetraLight has been designed for the breast and plastic surgeons for direct and clear vision when preforming surgery to the breast.  In the style of the Dr John Tebbett's Snowden Pencer breast retractor, RetraLight featured a powerful LED light features an easy to reach on/off button located on the top of the retractor handle.  The powerful bright clear light situated 35mm from the front of retractor blade.  No fibre-optic cable is required, cost effective in a box of 12 sterile, single-use and CE Marked.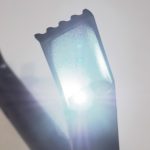 RetraLight also features a suction / smoke evacuation port with an easy to connect port for all standard suction tubing.  The ergonomically design handle is easy to hold and features a antislip material that helps reduce fatigue during lifting.  The retractor blade has a smooth and rounded off underside to prevent any accidental damage during breast implant insertion.  RetraLight features soft "teeth" to prevent tissue slippage and maintain retraction on all tissue layers.
Order code RL4000-12 for box of 12 sterile, single-use breast retractors 28mm x 15cm