Duramesh™ non-absorbable polyproylene suturable mesh
Duramesh™ is the worlds first sutureable mesh – combining the desirable principles of a mesh repair with the accurate placement of a suture.  Duramesh™ distributes forces at the suture-tissue interface, dramatically minimizing the amount of implanted foreign material, whilst providing up to 5 x the strength of tissue hold compared with a suture of the same size.
Duramesh™ has been designed to prevent suture pull through by distribution of the forces through each of the mesh strands that make up the mesh.  Easy to use, Duramesh is available with a pre-attached needle in a variety of suture/mesh sizes from 2/0 to 2 and in sufficient suture lengths.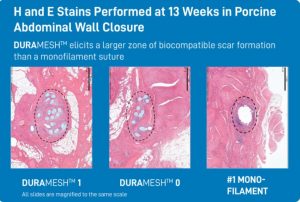 Duramesh™ handles very easily and can be used and knots, just like a normal suture.  The difference is remarkable and can be seen as soon as the first suture throw is in place.
Ideal for many surgical cases including; open laparotomy closures, umbilical hernia repairs, hiatal hernia, inguinal hernia, closure of the Rectus plication in abdominoplasty and for Abdominal Wall Reconstruction.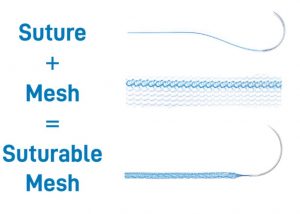 Duramesh™ Specifications;
Ref MSP100    2/0 suture (3 metric)   DR20 needle 3/8 20mm    1.5mm Mesh diameter
Ref MSP200    0 suture (3.5 metric)   HR22 needle 1/2c 22mm   2.6mm Mesh diameter
Ref MSP201    0 suture (3.5 metric)   HR48 needle 1/2c  48mm   2.6mm mesh diameter
Ref MSP300   1 suture (4 metric)       HR26 needle 1/2c  26mm   3.9mm Mesh diameter
Ref MSP301   1 suture (4 metric)      HR48 needle 1/2c  48mm    3.9mm Mesh diameter
Ref MSP500   2 suture (5 metric)    HR26 needle 1/2c  26mm     4.1mm Mesh diameter
Ref MSP501   2 suture (5 metric)    HR50 needle 1/2c 50mm    4.1mm Mesh diameter
For more information and news of publications, videos and technical tips visit https://www.meshsuture.com/technology
To download our brochure for further information on Duramesh range DURAMESH Brochure – Eurosurgical_LOWRES_NO TRIM