Black and Black Surgical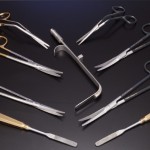 Black and Black Surgical
Are the premier USA Instrument Suppliers for all surgical instruments that are in specialist use by Plastic Surgeons.  These exceptional quality instruments are sources from the leading specialist producers world-wide for plastic, reconstructive and aesthetic surgery, including Breast, ENT, Rhinoplasty, opthalmic, Face lift (rhytidectomy), liposuction and electro-surgery.
Owners, Norman and Bill Black alongside their colleague Mike Lacey have 80 years experience within the instrument marketplace, with the creation, design and manufacture of a massive range of plastic surgery instruments.  Working alongside the most famous surgeons in plastic surgery since the 1970's, including; Tebbett's, Gorney, Ramirez, Daniels and Aston.
Black Diamond™ line of Rasps complete with a patented blend of tungsten carbide inserts possessing an extremely harden cutting surface.  The Onyx™ propietary line of finely fused tungsten carbide jaw needle-holders are fine examples of the best instruments available today.
For more information please contact your local Eurosurgical area sales representative or our office.  A link to the main Black and Black website will also help you locate the instruments you are seeking.