Colposcopy Instruments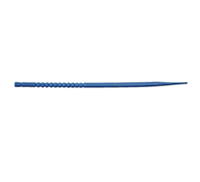 Disposable OS Finders
Ideal for cervical dilation, uterine sounding or other intrauterine procedures.
Made of malleable plastic and packaged individually sterile. Available in 50 per pack.
022731 Disposable Os Finder (50/pk)
022731-12 Disposable Os Finder (Each)
Reusable OS Finder Set
Made of soft malleable Teflon. 3pc set includes Os Locator, Canal Finder & Fundus Finder.
030803 Os Cervical Finder 3pc Set
IUD Kit
The MedGyn Intrauterine Device (IUD) kit is a sterile, single-use kit that contains all instruments needed for the insertion and removal of an intrauterine device.
The kit consists of a Cherron Forcep, Pozzy Forcep, Long Littauer Scissor, and Uterine Sound.
022365 Intrauterine Device (IUD) Kit – 25/bx)
022711 Disposable Pozzy Forcep
022712 Disposable Littaure Scissor
                                                        022713 Disposable Cherron Forcep
Disposable Keyes Biopsy Punches 
This punch has a sharpened, round tip, designed to take a vertical core sample from the vulvar epithelium.
Available in sizes 1.5, 2.0, 3.0, 3.5, 4.0, 6.0 & 8.0 mm.
                                                                                 022727 Disposable Keyes Biopsy Punches (50/bx)
Disposable and non sterile cotton swabs for colposcopy.
Length 200 mm. Swabs diameter 11 mm.
Characteristics: Non sterile. Plastic handle, cotton tip
Length: 200 mm
Diameter: 11 mm
Packaging: Box of 100 units
Flexible Hysterometer
Polyethylene hysterometer, with 15 graduations every centimeter on the distal tip.
| Product code | Label | Packaging |
| --- | --- | --- |
| 1502S14 | Flexible Hysterometer CH 14 | Box of 25 units |
| 1502S12 | Flexible Hysterometer CH 12 | Box of 25 units |
| 1502S10 | Flexible Hysterometer CH 10 | Box of 25 units |
IUD Thread Retriever (Retrievette®)
The Retrievette® is used to grab the thread or body of an intrauterine device to remove it.
Polypropylene device including:
• A concave section with 3 notches and a rounded tip,
• A handle, in the lower section, to help handling.
While rotating the Retrievette® and pressing it gently against the wall of the uterus, the IUD's thread is hooked into the notches and pulled out through the cervix.
| Product code | Label | Packaging |
| --- | --- | --- |
| 1504000 | Retrievette® | Box of 10 units |