About Eurosurgical
Eurosurgical Ltd was founded in 1988 to specialise in the sales and marketing of surgical equipment, instruments and devices to the medical profession in disciplines such as Plastic and breast Surgery, aesthetic & Reconstructive Surgery, Gynaecology & Obstetrics, Electrosurgery and Regenerative Medicine.
Eurosurgical Ltd is committed to the supply of medical devices to achieve customer satisfaction and in doing so maintain business profitability and encourage further business expansion. We aim to involve our workforce, customers and suppliers in a continual process of feedback and improvement such that our responsiveness and effectiveness to our customers requirements and expectations is monitored and where necessary, improved.
In consequence, the Company operates a Quality Management Policy that addresses BS EN ISO 9001:2008. The procedures within this Quality Management System are mandatory and all staff are responsible for maintaining and reviewing the objectives within QMS.
For more about the company use the navigation at the top of the page to get around the site.
Please note:
Our shop for post-op garments and patient products is now live! To buy online please click here.
How We Work
Total coverage of the UK (including Ireland)
Our specialist Area Managers make regular visits to hospital, clinics and doctors. To contact your local Area Sales Representative call 01483-456-007 or email sales@eurosurgical.co.uk
Enthusiastic Team
Motivated by shared participation within the Company and dedication to products they have available on an exclusive basis.
Professional Sales Representatives
All have a paramedical background and are able to work alongside the surgeon, demonstrate and provide support to doctors, senior nursing offices, sterilisation departments etc. In other words-to the user or decision maker.
Administrative office back up
A fully maintained and full time office staff, warehouse and financial administration is operated from our offices in Guildford, open 8.30 am to 5.00 pm Monday to Friday.
Attendance at national meetings and conferences
All major disciplines of the medical professions meetings/exhibitions attended. Also international meetings held in the UK. In all, some 30 exhibitions per year have our products exhibited.
Work with our suppliers
Our suppliers are kept constantly informed of the market changes and situation, price changes, competitor news and any other information that will help maintain our competitiveness and improve patient outcomes.
Teamwork with our suppliers
We engage in regular sales training and field work with the manufacturers representative to ensure that we provide our customers with the latest information, back-up and support with all our products.
Eurosurgical is a member of EMDDA which is a network of European Distributors
In 1993 a group of European medical device distributors joined together to benefit from each other's strength and to share information about the European medical device market.
Together they founded the European Medical Device Distributors Alliance, a company with a secretariat currently based in Padova (Italy).
Members and independent distributors combined their forces in EMDDA to offer a professional European network for the distribution of medical devices in different medical disciplines.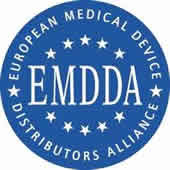 http://www.emdda.com/home/